We are here on Earth to learn how to become more caring.
The fight against a nuclear waste dump next to Lake Huron continues, following the May 6, 2015, approval in the Joint Review Panel Environmental Assessment Report. Numerous Canadian and American organizations have signed a letter submitted to Canada's federal Minister of Environment and Climate Change. On February 18, 2016, the Honourable Catherine McKenna extended the March 1st decision deadline to request Ontario Power Generation to submit a schedule for future delivery of significantly more evidence, given OPG's serious information gaps. On March 2, 2016, the Canadian Environmental Law Association, with Beyond Nuclear in the USA, distributed a media release calling on Canadian and American governments to list radionuclides as a `chemical of mutual concern' under the Great Lakes Water Quality Agreement. Please go to the websites Nuclear Waste in Canada, and also Stop the Great Lakes Nuclear Dump website to watch two short videos, and inform yourself. Join those of us who continue to intervene actively to stop this deep geologic repository from receiving a licence, by writing letters to your government representatives. Consider the well-being of the planet for our children and future generations.
♥♥♥♥
Awakening to possibility is the promise and hope through our life journey, a constant through life that never abandons us. Simply in being alive we are lifelong learners, to whom life lessons continue to be offered. Growing closer to our human potential, however, means the most important lessons arrive in ways unanticipated, unsought and, regrettably, often unnoticed, by our conscious mind.
A profound truth is that it is we who abandon possibility whenever we resist opportunities to open our minds, and our hearts, to new experiences that deepen and expand our understanding about life and living. Another universal truth is, that possibility remains within us, as an undercurrent in the river of life, indeed, as a hearkening of the soul to call us toward our human potential.
The quest for learning can bestow riches for the mind, the heart, the body and the soul. The `flower of life' symbol is a metaphor for the knowledge we can freely choose to gather. This ancient symbol of sacred geometry is universal, and is said to represent patterns of creation from any living cellular structure on earth to the galaxies.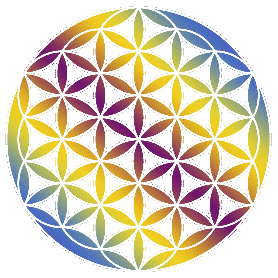 Indeed, the adventure of life is not limited to the global travels that we take, even when they are to the farthest reaches of the earth. As well, whether on the home front or abroad, it is through opening the door to our interior landscape that we discover, and can choose to develop, a range of innate ways of knowing that include the human heart.
The project of our time is not what the enchantment of technology is bringing to us. More pertinent is what we can bring to the design and applications of technologies that can complement the evolution of human consciousness. Each and every one of us - our ways of knowing once awakened - potentially can heal and transform a troubled world. Thoughts and actions that are life affirming are what conceive the energetic possibility of wellness, joy, love and peace to be experienced among the human family everywhere on this sacred Earth.
Wherever you are on your own journey, explore Special Interests and contact me with inquiries about the services identified above that I offer, to learn concepts and practices that could awaken and develop your particular wisdom, for inner peace and to make a difference in the world.